Home » Special Offers
Special Offers
In order to best reward our loyal, regular and best supporting customers, we are offering a set of offers. (see our price list)
Membership Course Offer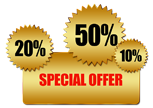 The easiest and most economical way to get the discount prices, is to purchase a membership course. That is buy 6 treatments (excluding nail extensions and waxing) at price of 5 anytime you want. The only difference is that if you buy at special offer price X 5, then you must use up all the pre-paid treatments within 6 months from the date you purchase it. For details, see our price list. If you buy at full price, then there will be no expiry date.
Recommendation Reward Offer
A special gift voucher will be issued to you when you have successfully recommended a new customer, which will allow you to have a 50% discount on orignal price for any treatments excluding waxing and course. It can be used either by yourself or as a gift to treat someone you like. This gift voucher cannot be used in conjunction with any other offers.